Posted by Justin & Bec - Trip in a Van on 1st Oct 2019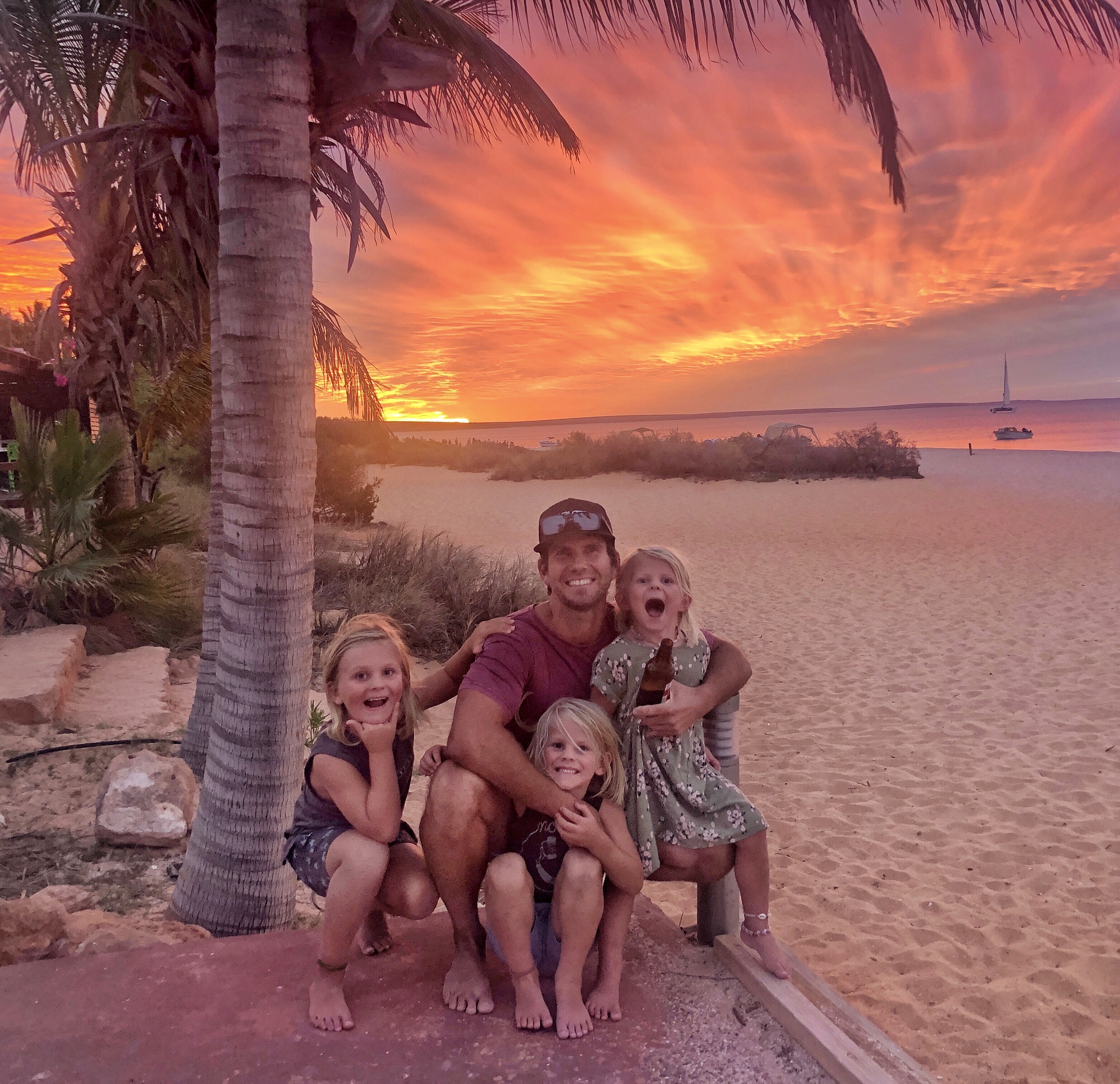 SHARK BAY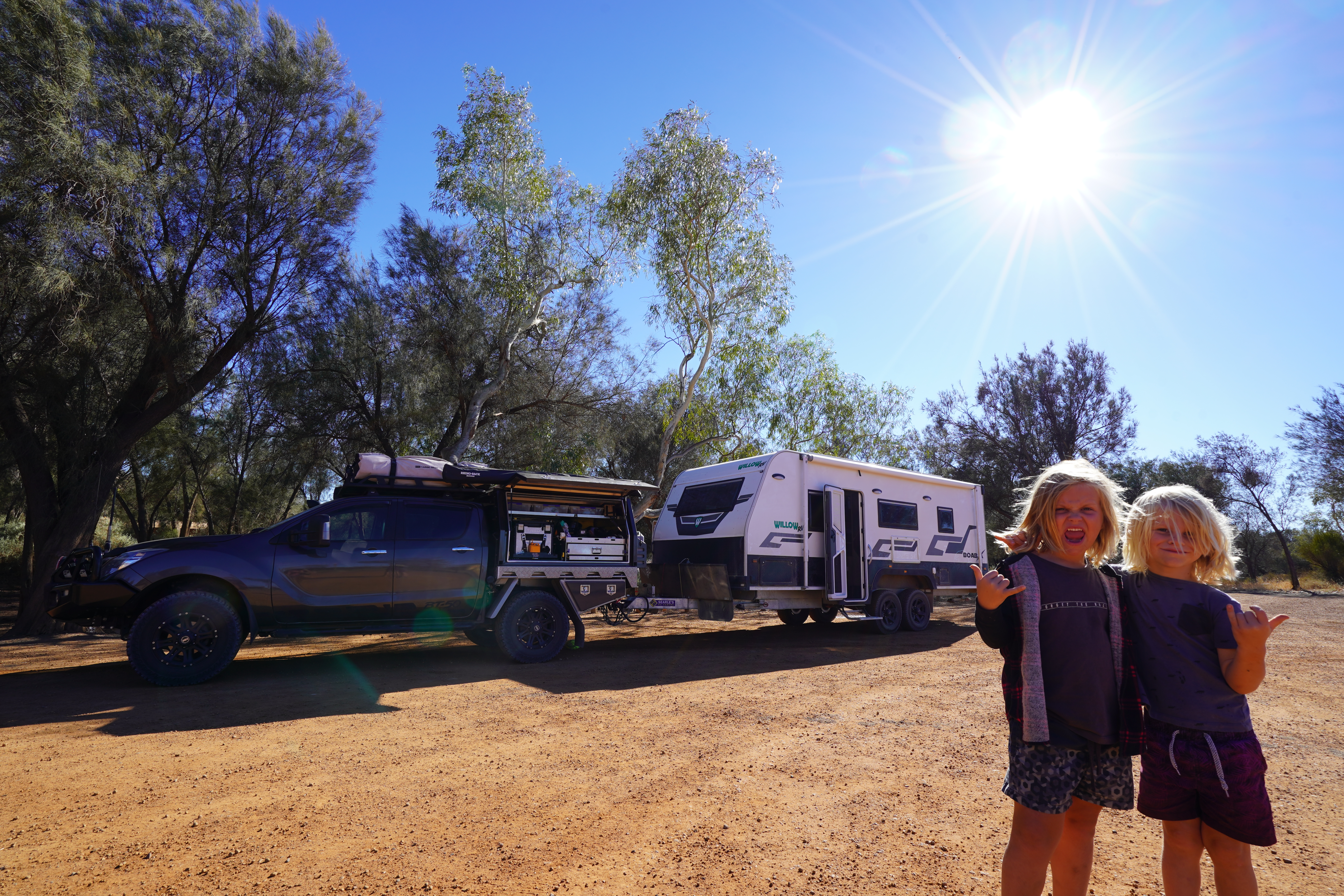 This month we continue our travels North up the West Australian coastline.
After visiting the beautiful Kalbarri and Natures Window where we last left you, our first stop is a great free camp called Galena Bridge which is back out on the highway. A huge camping area on the river with great facilities including, toilets, bins, fire pits and dump points. This is a great site for an overnighter on your way past.
From here, we travel the 160km north to the turn off for Shark Bay & the towns of Denham & Monkey Mia.
Shark Bay is a World Heritage Site and is located approximately 800km north of Perth. It's also where you can find the westernmost point on the Australian Continent - Steep Point.
It is a really diverse place and the landscape will knock your socks off! From amazing crystal clear blue waters, to the red cliffs, white sand, stromatolites and abundance of shells, it has many exceptional features. Many travellers just drive in, do the well renowned Monkey Mia and drive out, but we love a bit of adventure & there is plenty of it around here.
A few great spots to check out on your way into Denham are: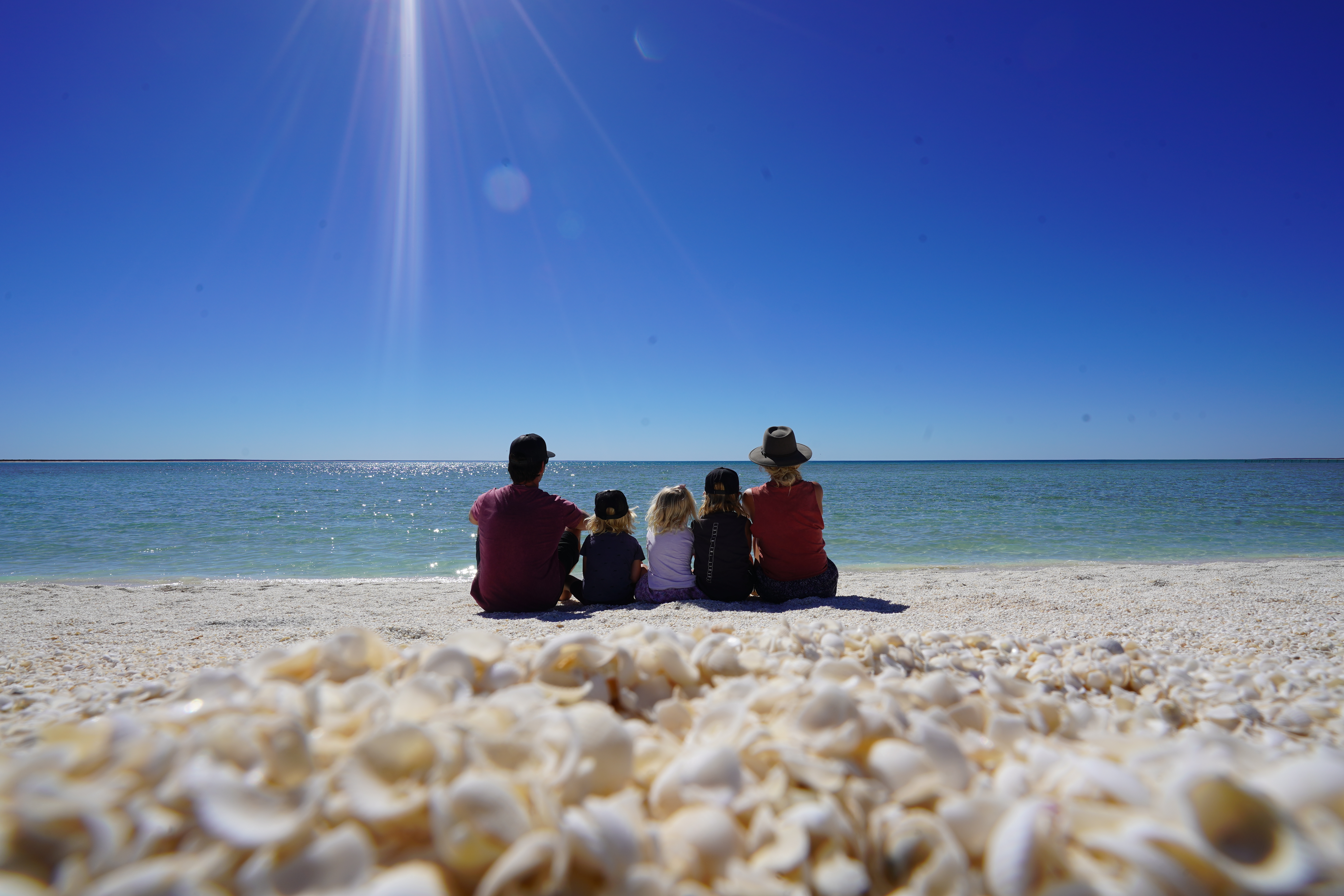 Shell Beach
Countless tiny white shells form a 60km long beach that actually feels like a desert. The crystal clear blue water here is perfect for a swim.
The Stromatolites
Sheet like sedimentary rocks formed by growing layers of unique bacteria.
Shark Bay is known for its rugged landscape but its most famous for its rich marine life. One of the biggest attractions in the area is the Monkey Mia dolphin experience. Although many think it's commercial and too expensive, you really have to go and see it for yourself. There will be big crowds of people at the dolphin feeding but you will get to see a dolphin up nice and close & if your super lucky, get chosen to hand feed one. The sunsets at RAC Monkey Mia are incredible and you can enjoy a drink at one of their bars and restaurants while the sun goes down. After a few nights at Monkey Mia's holiday park letting the kids run amuck, swim in the beach and pool we pack up and head towards Steep Point.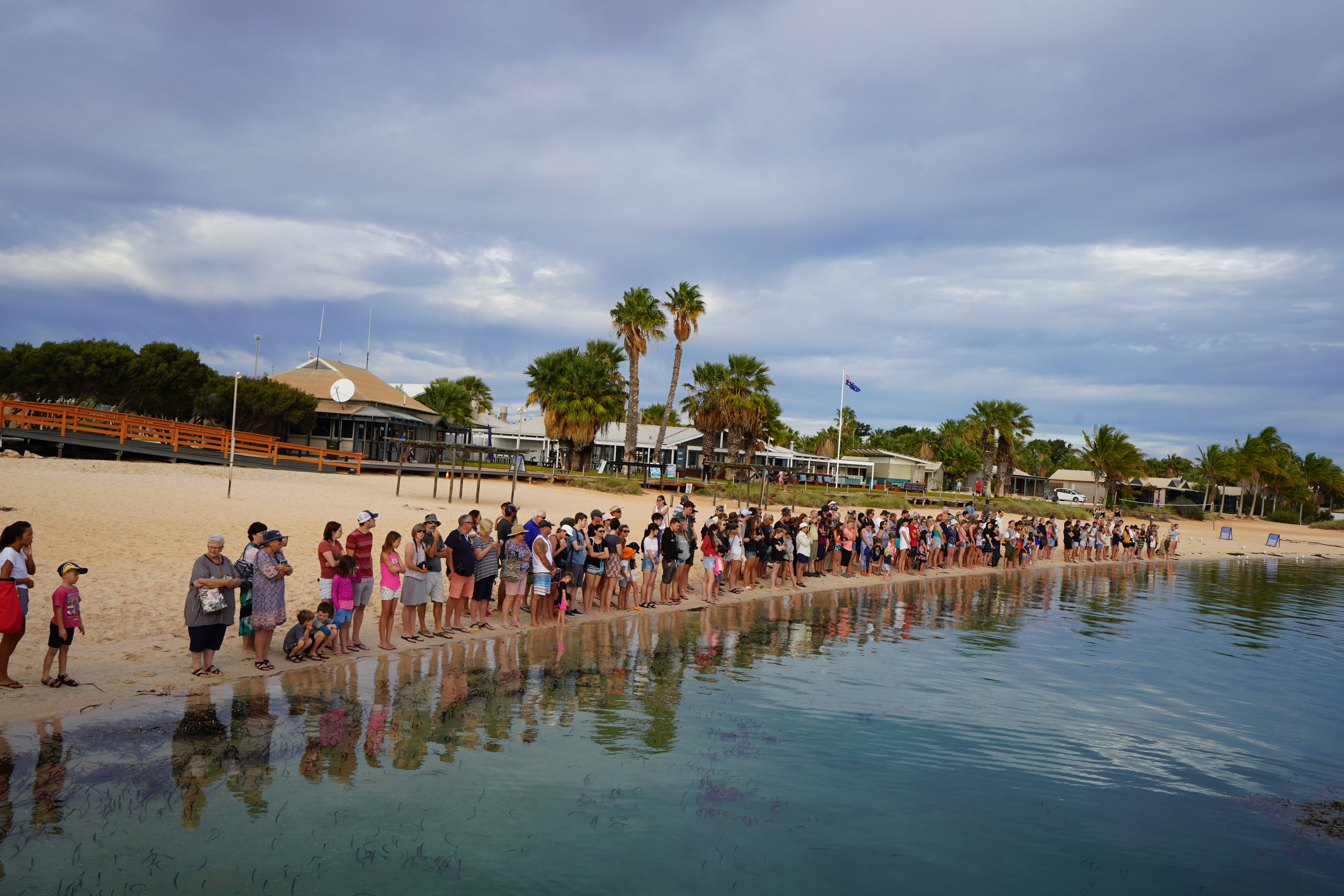 We regretfully decided to skip Francois Peron National Park due to our timeframe to get over to Dirk Hartog Island (stay tuned for that one), however this National Park is magic. You must visit here if in the Shark Bay region. The beaches, free camping and red cliffs are unbelievable and the scenery is incredible.
We drive down to Hamelin Outback Station Stay to store our caravan before we head over to the island. We are heading out to Steep Point and there is no way we would get our van out here. We load up our Mazda BT50 and throw all of our clothes, cooking gear and food into the back of the Norweld Canopy. The road through to Tamala Station is pretty good and we toss up whether to stay here, but we are just so keen to get out to Steep Point and camp out there. If you are heading down this way, make sure you plan a few nights to stay at Tamala Station. It's fantastic. Remote camping, great fishing, clear blue waters and a wicked time! You can also day trip out to Steep Point from here too.
A bit further up the track & it starts to get a bit tough. Plenty of corrugations and a hefty sand dune. We pull up and drop our tyre pressures down from 25psi to 15psi. The Mazda kills it up the dune and we are rewarded with spectacular views coming down onto the beach.
First stop is the Ranger Station where we pay our fees to stay at the DHI barge landing site in Shelter Bay. .WOW!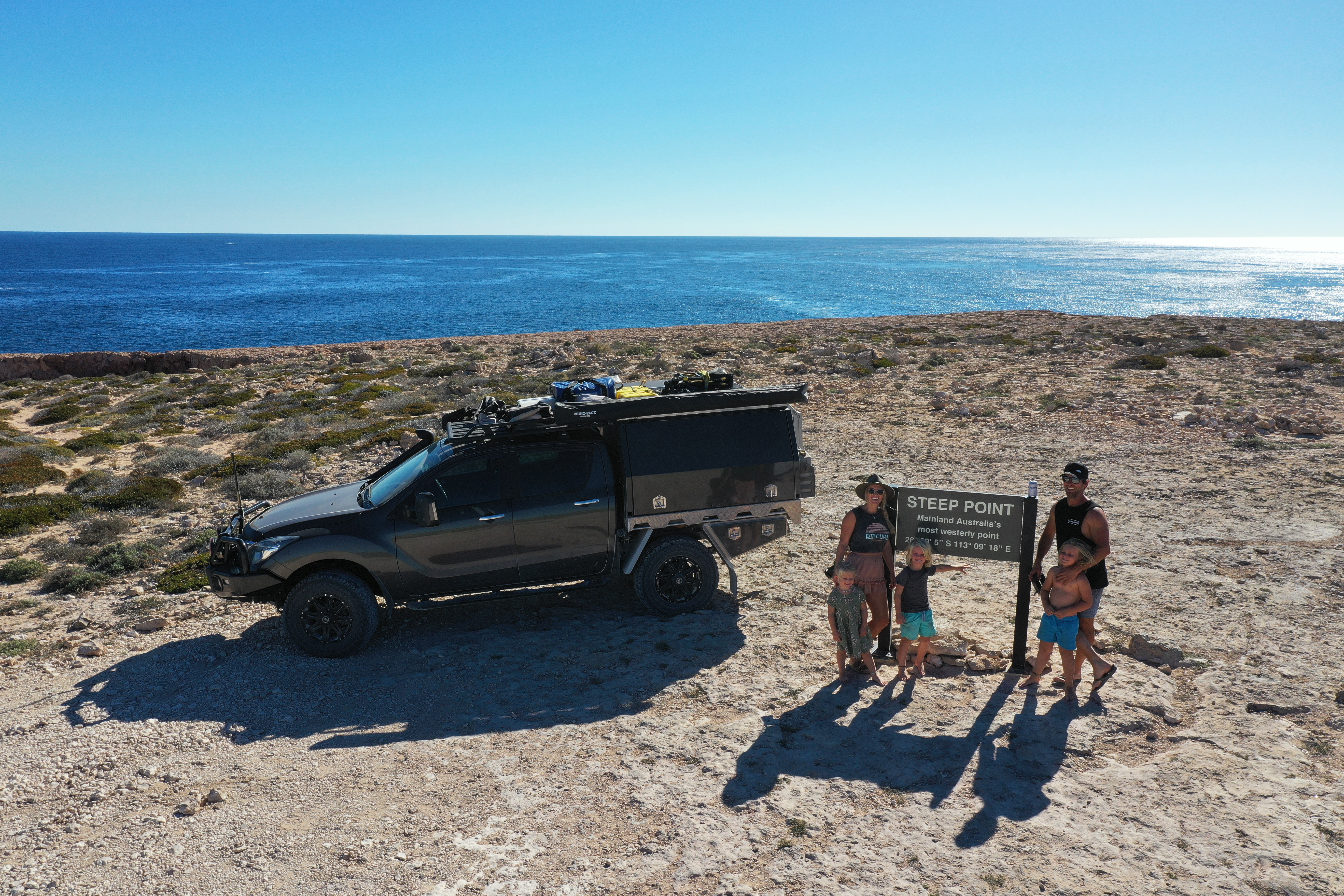 We pull up and throw the swags off to claim our campsite and then we head another 10 minutes up the track to check out Steep Point and get a pic with the SIGN!! After a couple of froths at the sign we head back to camp to setup and have a fish.
We kick out the Swags only metres from the beach on the soft sand which makes for an extra comfy sleep! Straight away Justin throws in a line and catches 3 fish from 3 casts and the kids reel in one too. We ate dinner on the beach while watching the sunset go down and of course we had to have a few drinks and take it all in.
Next day we pack up and take the barge over to Dirk Hartog Island, but we'll tell you all about that in the next article.
Cheers - Justin & Bec
@tripinavan on socials