Posted by Justin & Bec - Trip in a Van on 1st May 2019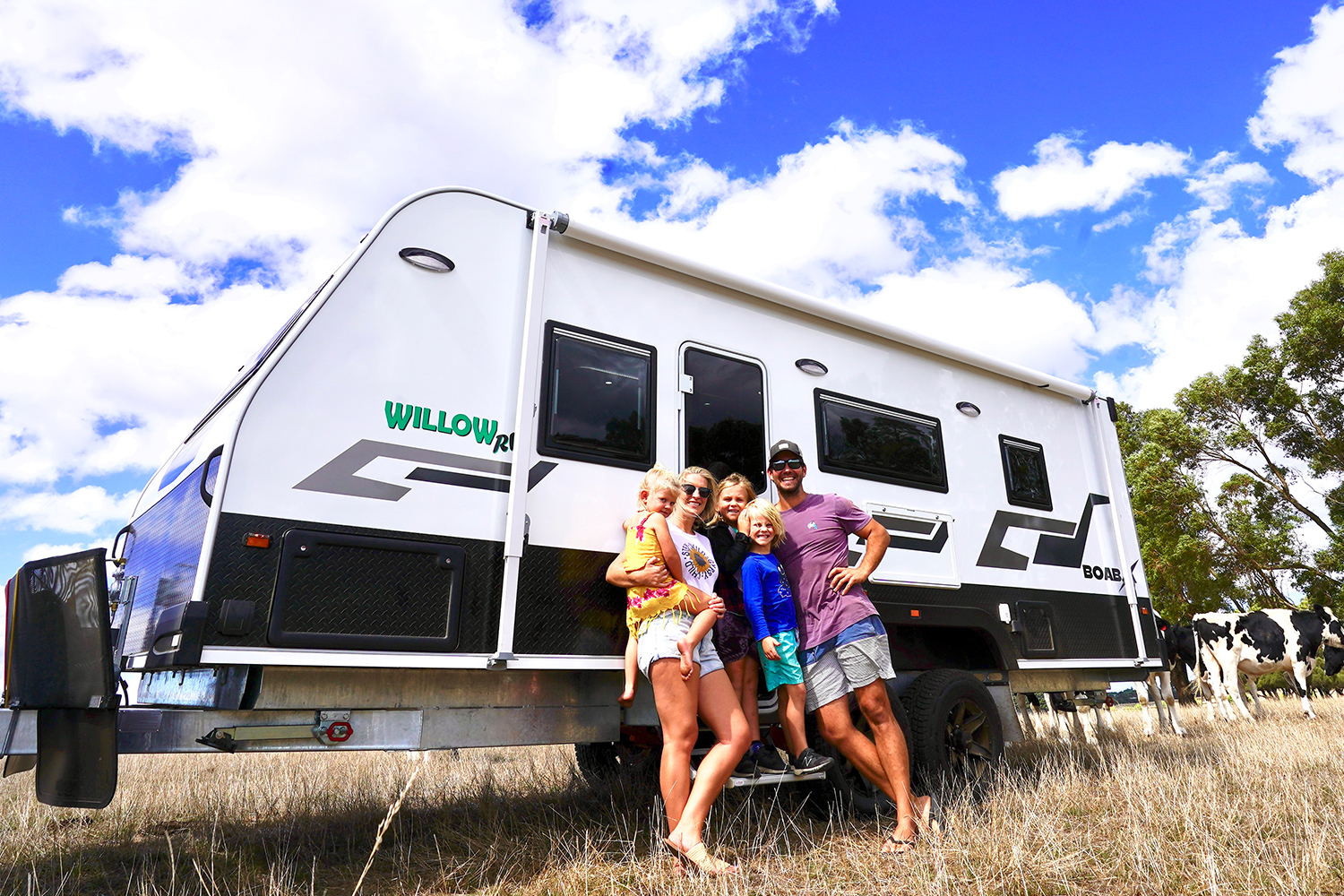 OUR FIRST OFF-ROAD VAN!! DO WE EVER NEED CARAVAN PARKS AGAIN??
This is a first in a 12 part series of articles that will follow our travels and show you some great places to go around Australia with your van in tow. So for those of you who don't know who we are I'll kick off with a quick background of our lifestyle and our experience with different caravans.
We are a young family of 5 who packed up in December 2015 to do what we thought at the time was going to be a 12month Lap of Oz!! Since then our travels have grown into a new way of life for our family and we are still travelling over 3 years later!! We work with Tourism bodies and brands within the caravan, camping & 4wd industry to create content and promote the regions that we visit via our social media and YouTube channels.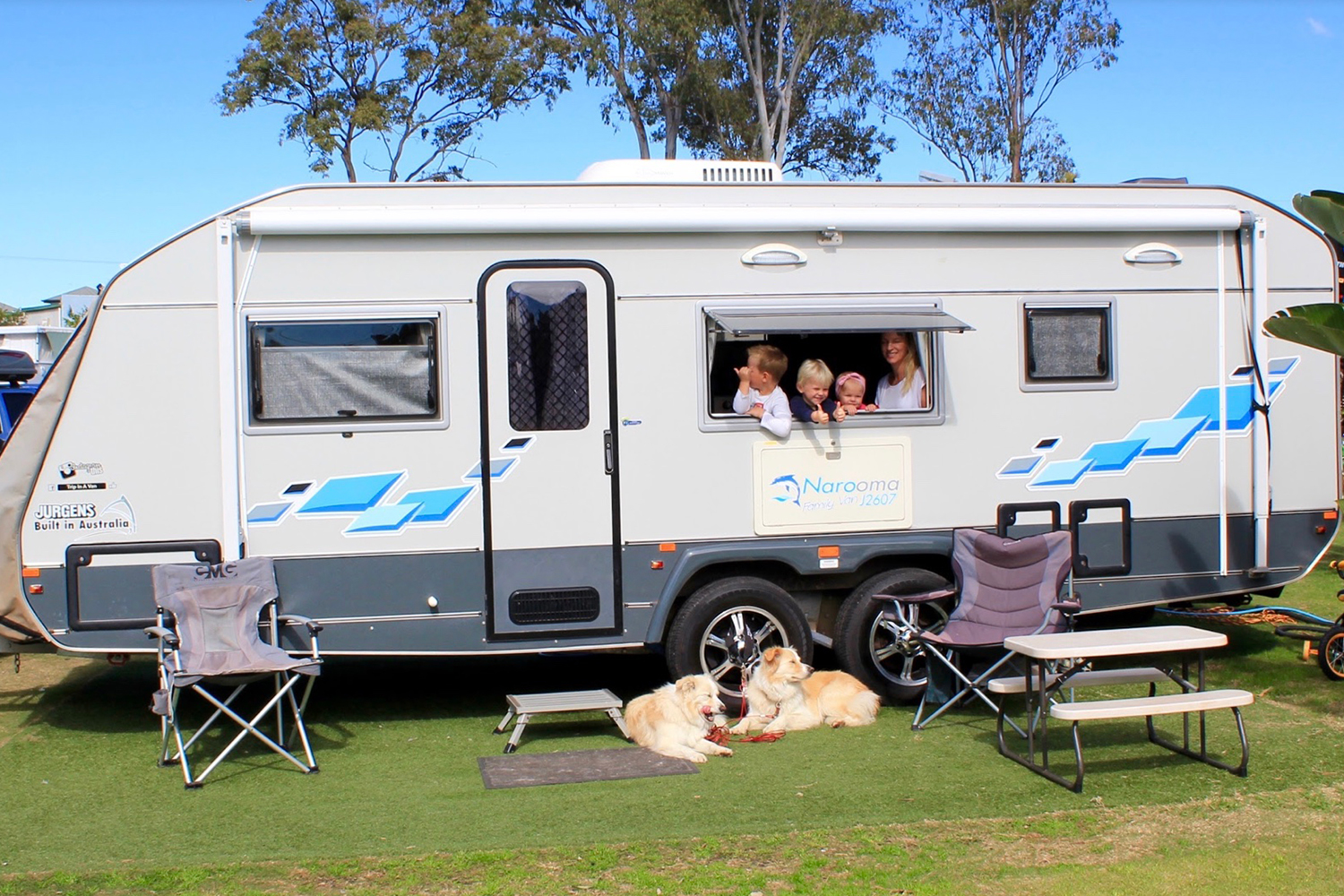 Our very first van was a Jurgens Narooma. A 23foot family van that took us around Australia twice without fault and gave us countless amazing memories, but…… We had to miss so many great free camps and locations because the suspension wasn't up to handling Off-Road conditions. This left us with huge list of places we needed to return to see when we got ourselves into a capable van with some beefed up suspension!!
Next van was another Jurgens, a prototype of a new model called the Solaris. This was a step up in capability with a lot more ground clearance and independent trailing arm suspension. It was fitted with Cruisemasters on road variant, the GT suspension. Now this is also an on road suspension but we gave it hell across the Savannah way's corrugations and it stood up to the test and got us into some epic free camps up north.. I was like gees, if their on road gear can handle this, imagine what the offroad kit can do??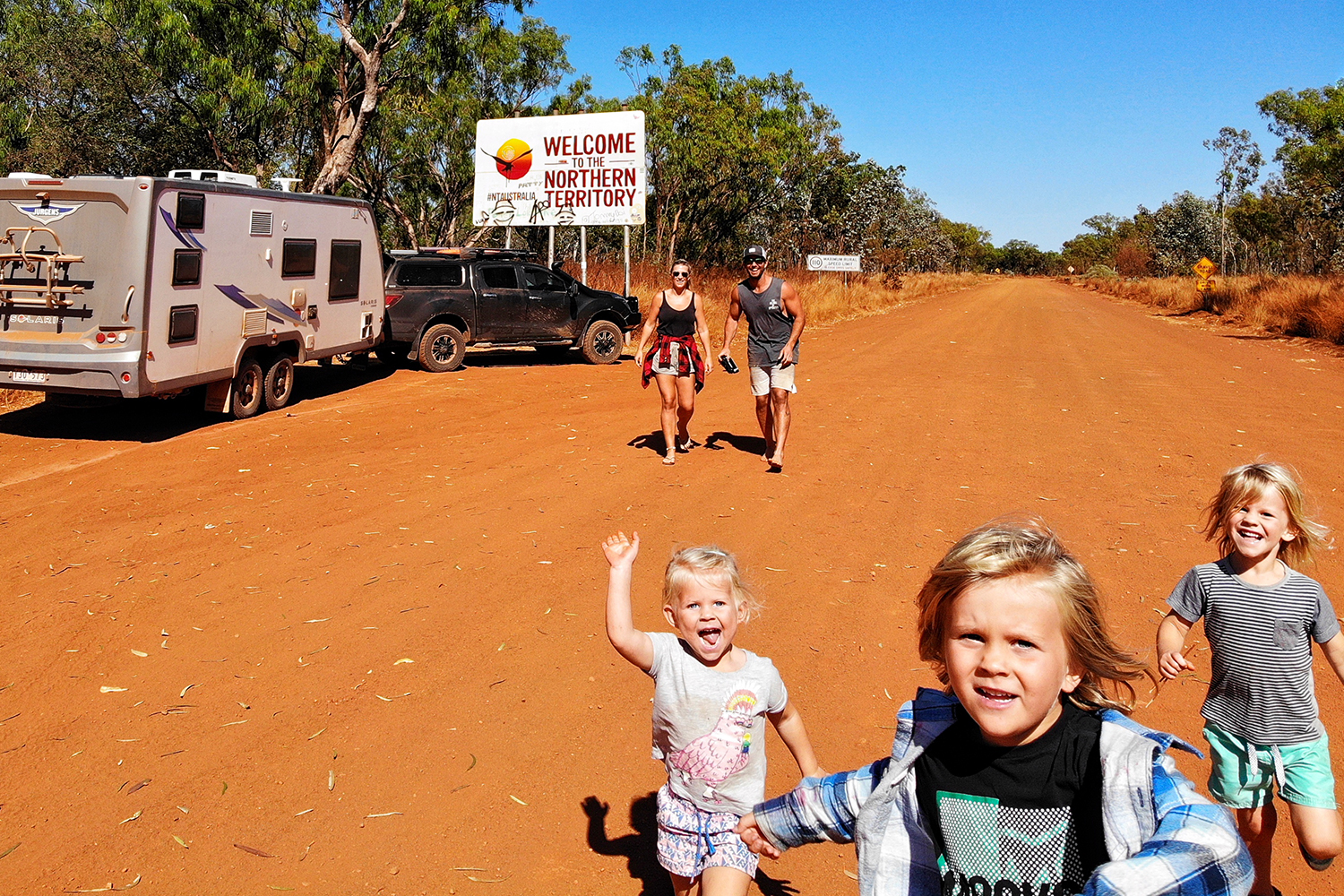 Now a few years back I was fortunate enough to tow a hybrid caravan up to Cape York and this was my first experience with a full Off-Road spec suspension setup. The Jurgens TuffTrax was fitted with Cruisemaster XT and my Dad and I towed it the whole way though the Old Telegraph track without damage and without getting stuck, my mind was blown!! This is where i knew that when we did upgrade into an off-road van it was going to be the dual axle version of Cruisemaster XT that I'd be fitting.
So that brings you up to date with a quick backstory of our caravan experience. Now we better tell you about the New van we have, the upgrades we have made and where we will be taking her over the next 12 months.
THE VAN
The new van is manufactured by Willow RV. It's a new model called the BOAB X and it's based on their previous model the Conifer.
We made some design changes to the layout and storage spaces and we upgraded the suspension to the Cruisemaster XT with disc brakes. We also fitted an Off-Grid battery system from Enerdrive to increase our free camping capability! This includes a 300 amp hour lithium battery, 4 x 150 watt solar panels and a combination 120 amp charger/3000watt inverter that runs the whole van as if we are plugged into a powered site.
It's 20'6 in length with a tare weight of 2470kg & an ATM of 3300kg. We are stoked with the new rig and it's been performing brilliantly and following us everywhere into some amazing locations!!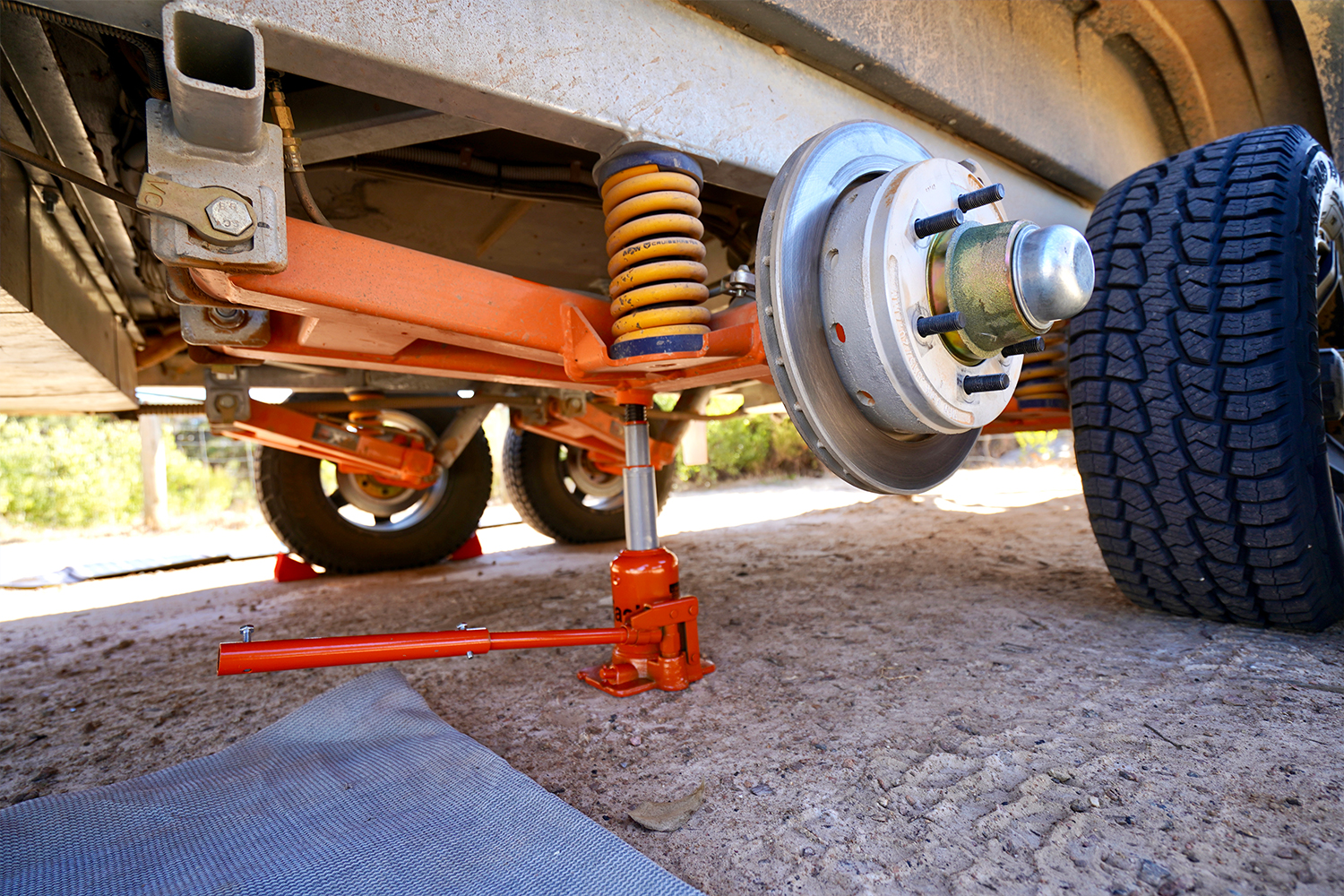 Cruisemaster XT Coil Suspension with Disc Brakes
SO WHERE ARE WE GOING??
We have just left Melbourne heading West around Oz. We have been free camping our way across Australia and will show you all the great spots we find on our way around with some great info on how to get there yourself!! So let's kick it off with our first stop in the New Van…
You can check out Episodes from our Roadtrip Australia series right here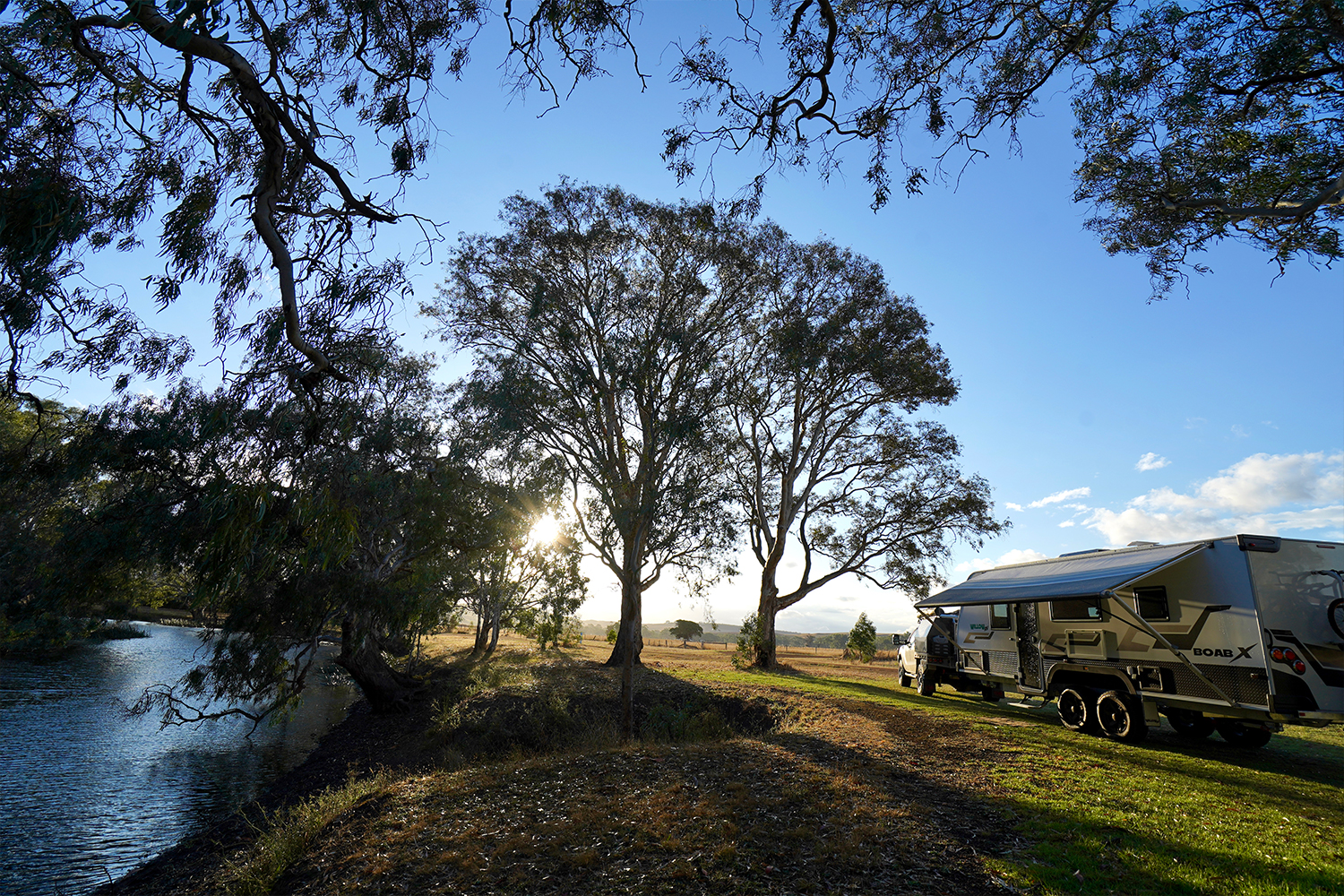 ESS Lagoon in Casterton Victoria…
What a Ripper spot. The perfect spot to chill for a few days and enjoy such a great campsite. If only all towns had an area as good as this for us caravaners to stay. Set around a lagoon with plenty of gum trees, there is birdlife everywhere. It's only a short walk into town where there is a well stocked foodworks to grab some supplies. There is also a walking trail around the lagoon and a workout station as well. Pretty happy we found this place on the WikiCamps app. We use this app everyday and it's a fantastic resource for finding campsites, caravan parks, dump points and water fill points.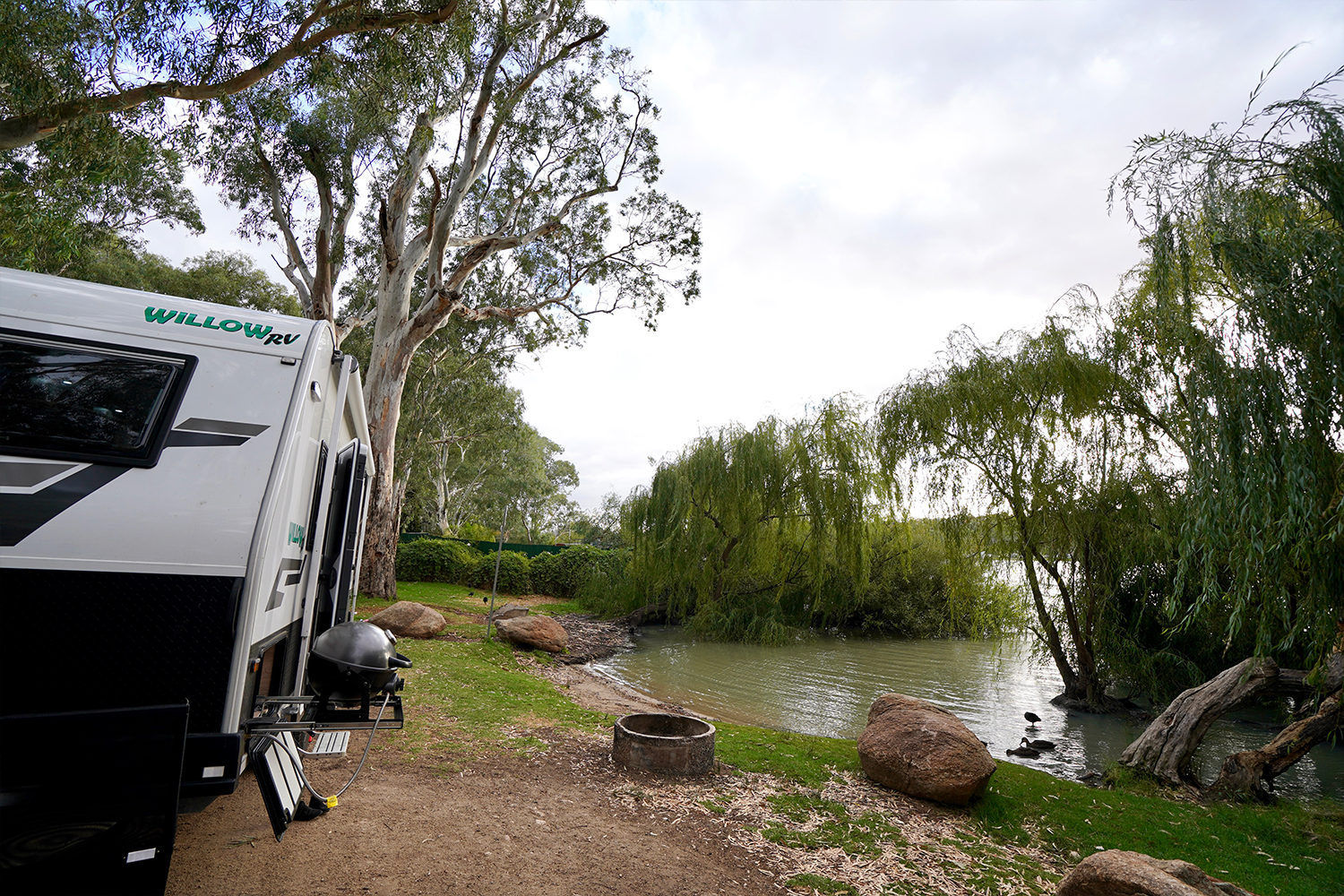 Haythorpe Reserve - Mannum in South Australia
Take the free ferry across the river at Mannum and you will get to this great low cost campsite right on the water. Only $10 a night to stay here and it has great facilities. Public toilets, a dump point, bins and fire pits are available here. We pull up in a private little spot right on the water and have a quiet arvo as the kids ride there bikes around the campground. We couldn't have a campfire because of restrictions but that would have just topped off another great camp.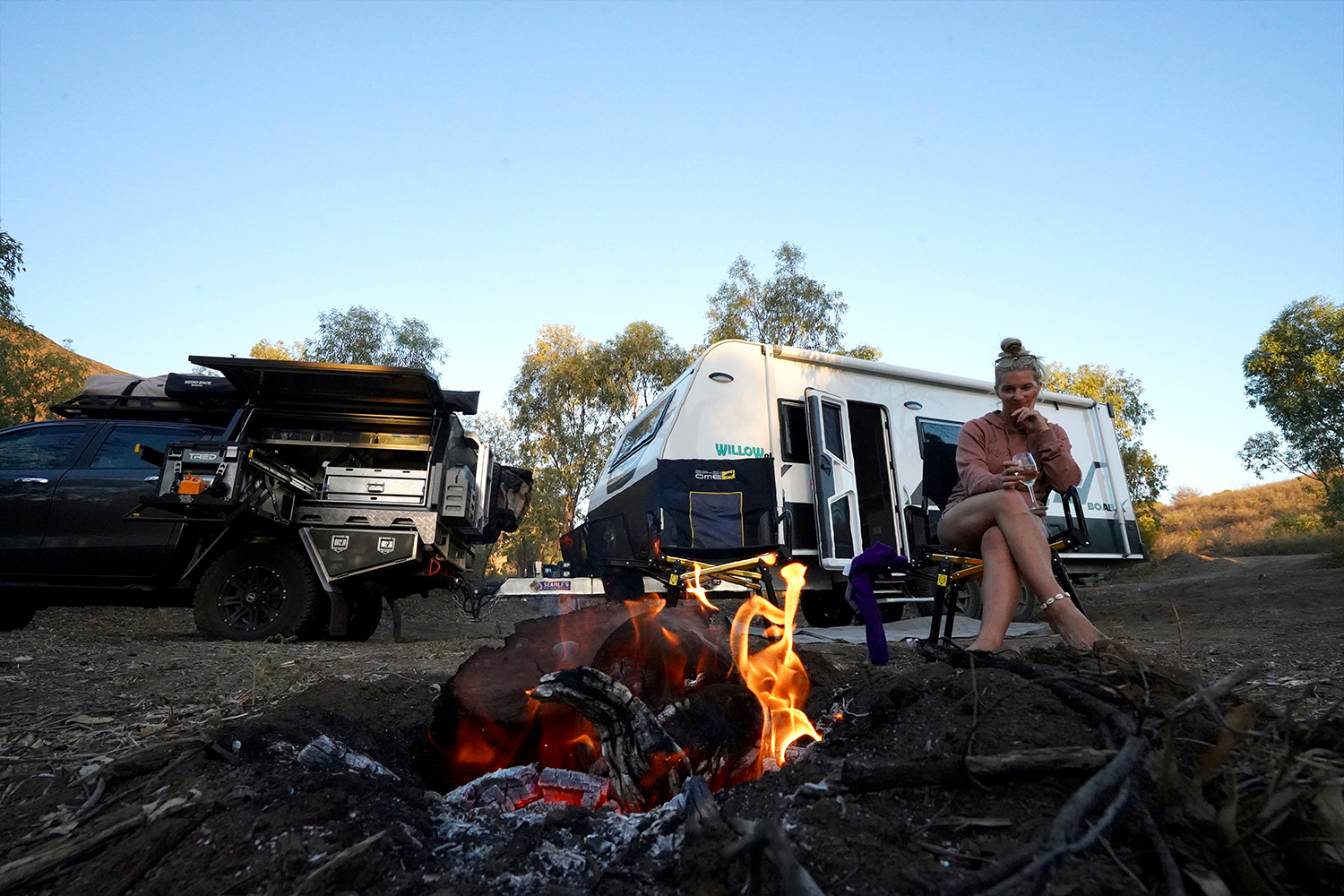 Horrocks Pass Bush Camp
Not far before the town of Port Augusta we took a right turn up into Horrocks Pass where we stayed at an awesome Bush camp just off the main road. We were the only ones there and it was just perfect!! Now this is where we gave the new rigs suspension it's first real test!! The access road into the camp site we wanted had a few big washouts and steps in it and the van just walked down like it was nothing…. No bottoming out, no hanging up on the van and no damaging anything, perfect!!!!
We checked the fire ban app and with no current bans we kicked off the campfire, grabbed a few beers out of the fridge and enjoyed an outback bush camp all to ourselves…
So that brings us to an end for now. This Part of our trip has taken us from Warrnambool to Port Augusta and we have found some great camps along the way. We are now heading up into the flinders ranges to explore Willow Springs Station and we can tell you all about it next month.
Cheers - Justin & Bec
@tripinavan on socials